Luxury Tours to India from Kelowna
Summer in Kelowna is amazing with its lakes, wine tours, nature hikes, cuisine, and more. When you're sitting on a beautiful patio sipping the delicious wines of the Okanagan, it's hard to imagine ever wanting to leave there. However, once the party is over and the cold winds of winter set in, let's face it, it's hard to imagine getting through the winter without a warm vacation far away. Why not take a trip to India this winter? Like Kelowna, India has something for everyone. From visiting the historic monuments temples, and forts, to experiencing the delectable cuisine and culture of India, a trip to India can be exhilarating, tranquil, or whatever you would like it to be. Whether you want to revel in the majesty of all the iconic sites of India or embark on a safari adventure, India has it all! One thing is certain though, regardless of what kind of Indian vacation you would like, you are about to embark on the most amazing journey you will ever have!
Wondering when you should plan your vacation to India from Kelowna? Canadians are fortunate in that one of the best times to travel to India is when we are experiencing the cold and frigid months of December, January, and February. Wouldn't you love to be soaking up the warmth of the Indian sun while you visit some of the amazing sites of India like the Taj Mahal, Amer Fort, or the Lake City Palace in the beautiful city of Udaipur? Maybe you would also like to top off your visit to India by exploring the South of India so you can cruise down the backwaters of Kerala in a luxury houseboat. Whatever kind of vacation you would like, India delivers when it comes to creating memories of a lifetime and stories to share that will be remembered long after you tell them.
Whether it's going on an Indian safari or taking in the historic monuments of India, there is a lot that India offers the curious traveller. Travelling to a beautiful, yet somewhat complicated country like India can be a bit of a challenge, therefore, having an award-winning tour company like Explore India help you plan your journey can be a huge help. Specializing in luxury small group tours and custom private tours, Explore India offers exceptional service from the moment you speak to us on the phone, throughout your magical and amazing tour, and right up until the moment you arrive home! At Explore India the motto is 'you are a part of our family when you travel with us' and it's true, going above and beyond for the guest, Explore India is truly in a league of its own. Call Explore India now to learn more about our world-class tours and how we can make your next trip an experience of a lifetime. The magic of India begins the moment you pick up the phone!
Here are some tours we thought you might like.
Featured tours from Kelowna to India
Explore India is an award-winning tour and travel agency, and we pride ourselves on putting travel first. Every year, we are thrilled to be able to take Kelowna locals on the Indian trip that they could only dream of. Come celebrate India with us through one of our tailor-made tours!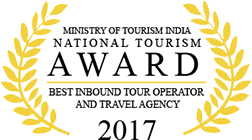 Need help finding a tour?
Contact a travel specialist