Luxury Tours to India from Regina & Saskatoon
Let India Keep You Warm This Winter
As you head to the hardware store to grab jumper cables, matches, flashlights, and blankets to prepare for your bitterly cold prairie winter, stop for a moment and ask yourself, 'how could I stay warm this winter without looking like I'm preparing for the end of the world'? How about planning a trip to India? Yes, India, the land where the people, cuisine, and surroundings are as warm as the sun itself, almost as warm as the friendly people from Saskatchewan are.
Much like the prairie people of Regina and Saskatoon, the heart of India is in the warmth and friendly demeanour of the people. India is a country that prides itself on hospitality, a warm-heartedness so beautiful that you will feel like kings and queens from the moment you are greeted at the airport and throughout your magical time in India. What is the best time to travel to India from Regina or Saskatoon? India offers the best climate for Canadians during our winter months. From October to March in India, you will experience warm, pleasant temperatures and a clear blue and sunny sky. Do you want a trip of a lifetime in a warm and hospitable country? You will find all that and more in incredible India.
Understanding what to expect on your journey to India is an important aspect when planning your trip. Speaking to a travel specialist from an award-winning tour operator like Explore India Journeys Inc. is a great place to start. Whether it's visiting the Golden Triangles UNESCO World Heritage Sites like the Taj Mahal, Red Fort, or Humayun's Tomb, or majestically floating down the tropical and serene backwaters of Kerala in an ancient rice boat, whatever appeals to you, an Explore India Travel Specialist is here to uncover your desires and then make them happen for you. Despite the frigid temperature when you leave Saskatchewan, there is no soul that is not touched and changed by the warmth of India. Explore India Travel Specialists are waiting for your call. Come, let India unthaw you this winter.
We have put together this list of fabulous tours to give you an idea of what awaits you in India. Explore India also offers gateways from both Regina and Saskatoon.
Featured tours from Regina & Saskatoon to India
Explore India is an award-winning tour and travel agency, and we pride ourselves on putting travel first. Every year, we are thrilled to be able to take Regina and Saskatoon locals on the Indian trip that they could only dream of. Come celebrate India with us through one of our tailor-made tours!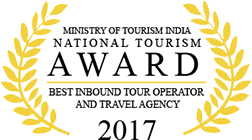 Need help finding a tour?
Contact a travel specialist