Luxury Tours to India from St. John's in Newfoundland & Labrador
Enjoy The Richness Of The Festival & Cuisine Culture Of India
Deciding where to get away from the wind and fog in St. John's in the wintertime can be either a fun or a daunting task. Planning a trip to incredible India may be the exciting answer you've been looking for. Why would someone from St. John's plan a trip to India.
Newfoundlanders enjoy travelling to India because, like Newfoundland, India has a rich festival and culinary scene that attracts people from all over the world. Conveniently, many of India's festivals happen during the Canadian wintertime so it's the perfect time for someone from St. John's to go on a journey to India.
Let the festivals and celebrations of the Canadian summers in Newfoundland & Labrador continue on into winter as you leave for India. What are the best festivals in India? Some of India's famous festivals like the Diwali-The Festival of Light- or Holi-The Festival of Colour, are great because they are rich and lively with music, colour, and cuisine. Joyous celebrations abound to all who attend these beautiful festivals as everyone is welcome regardless of race or religion. These are just two of the fantastically entertaining festivals where you will enjoy the amazing cuisine and culture of India. What time of year is best to travel to India? October to March is the perfect time to travel to India because the temperature is pleasant and the skies are clear, great for Canadians who need a break from the cold winter.
Learning about what to expect in India is essential in ensuring that your trip is a journey of a lifetime. At Explore India Journeys Inc., we take the time to speak with you to determine which of our award-winning tours would be best for you. Whether it be the Impressions of India Tour during Diwali or perhaps the Camel Festival Tour in Pushkar, the Explore India Travel Specialist is here to offer expert advice about India to ensure you have the best possible experience in India and, if we don't have the perfect tour already, we will create a custom tour for you. At Explore India we pride ourselves in creating unforgettable journeys of a lifetime and we are here to do that for you. Enjoy the excitement of learning about and planning your incredible trip to India with us. An Explore India Travel Specialist is waiting for your call now.
Let the excitement begin by checking out these tours we have selected for you. Remember, if you don't see your perfect itinerary already, we will custom create a tour for you. Explore India offers gateways to India from St. John's.
Featured tours from St. John's to India
Explore India is an award-winning tour and travel agency, and we pride ourselves on putting travel first. Every year, we are thrilled to be able to take St. John's locals on the Indian trip that they could only dream of. Come celebrate India with us through one of our tailor-made tours!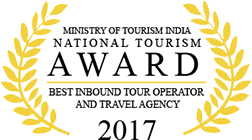 Need help finding a tour?
Contact a travel specialist