Tours to India from Toronto
A trip to the other side of the world.
Booking your trip to India can be incredibly exciting and nerve-wracking! Choosing to travel from Toronto to India puts you into a completely different world where you will be immersed by a culture, cuisine, and landscape that will take your breath away. A tour is a great option to make sure that you make the most of your experience.
So, why are you traveling to India? Knowing exactly what you are hoping to see and experience is critical when deciding which tour to book. You may want to see the sun rise over the Taj Mahal, retrace the last steps of Mahatma Ghandi, travel on a safari to see the elusive Bengal tigers or spend time speaking to the locals at markets. Whatever is important to you, we would highly recommend that you look beyond the "typical" tour experience. There is so much more to India than many Canadians have heard about, so do some digging and decide what is important to you!
With that said, we have created an array of unique tours which cater to certain experiences that you may be looking to have in India. Explore what's included in some of our favorite tours, with airfare right from Toronto!
Featured tours from Toronto to India
Explore India is an award-winning tour and travel agency, and we pride ourselves on putting travel first. Every year, we are thrilled to be able to take Toronto locals on the Indian trip that they could only dream of. Come celebrate India with us through one of our tailor-made tours!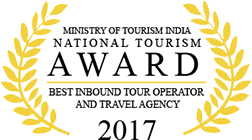 Need help finding a tour?
Contact a travel specialist