Luxury Tours to India from Victoria
Victoria, known internationally as the City of Gardens, is a stunning scene as the colours of spring begin to paint the city each year. People who are drawn to such cities truly do have an appreciation of the finer aspects of life through nature and beauty. So, when the Victoria resident is getting ready to plan a winter getaway, what better place than somewhere warm and exciting, but also offers tranquil escapes to the simplicity in nature. Complete with world class gardens, beautiful flower courtyards, and an amazing variety of birds, India is just that place! There is a peaceful and breathtaking aspect of India that few explorers realize until they arrive. One associates India with the hustle and bustle of daily life, however, there is also a simple and pure beauty to be enjoyed in India that extends from the elegance of the iconic monuments to the extraordinary gardens too.
Knowing exactly where to go and how to plan your journey to India is an exciting and important step in ensuring that your vacation to this magical country is everything you hope for. The time of year to travel to India from Canada is another aspect of your planning that must be considered as the temperatures range from very hot to cooler and rainy. Lucky for you, the best time to travel to India from Victoria is in our cold Canadian winter months of December, January, and February. These months offer comfortably warm and dry days perfect for strolling through the many gorgeous gardens in between experiencing the grandness of iconic sites like the Taj Mahal, Amer Fort, and Gandhi's House, just to name a few.
Embarking on a journey to India from Victoria can be a bit overwhelming, but travelling with an award-winning tour company like Canadian owned and operated Explore India can make all the difference. The anticipation of your trip, and all the planning therein should be an enjoyable experience. At Explore India, we don't just take you on a tour, we take you on a world class experience of a lifetime. From the moment you call to inquire about our tours, to the moment you arrive home filled with experiences and memories that you will cherish for the rest of your life; Explore India is there to ensure your dream vacation goes smoothly every step of the way. If you want some incredible stories, photos, and memories to share with your friends and family, India awaits. Call Explore India now and let the magic of India begin.
Here are a few of Explore India's award-winning tours we think you might enjoy.
Featured tours from Victoria to India
Explore India is an award-winning tour and travel agency, and we pride ourselves on putting travel first. Every year, we are thrilled to be able to take Victoria locals on the Indian trip that they could only dream of. Come celebrate India with us through one of our tailor-made tours!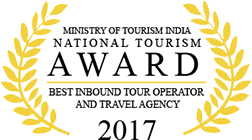 Need help finding a tour?
Contact a travel specialist