Luxury Tours to India from Winnipeg
Ah, 'Winterpeg', once given the title as one of the 5 coldest cities in the world, Winnipeggers have always been a hearty bunch who have a knack for enjoying themselves regardless of the temperature outside. But as I look at the weather today, an ice cold -20º Celsius, I wonder if it might be time to book a warm winter vacation. Being adventurous, the Winnipegger is most likely looking for something warm but with a hint of intrigue. How about going on an adventure to India to soak up the sun but also venture out on an Indian wildlife safari? Like Manitoba with its deer, elk, black bears, and even polar bears, India too has a rich and plentiful variety of wildlife to see like elephants, leopards, a large variety of birds, and even the Bengal tiger. Why not head to incredible India, take in historic sites like the Taj Mahal, City Lake Palace, and the river Ganges, and then also go on an Indian wildlife safari at one of the famous game reserves in North India's Rajasthan area.
Which national parks are the best to see a Bengal tiger and a good assortment of India's wildlife? Ranthambore National Park is one of India's best game reserves and is home to the elusive Bengal tiger, a large variety of other animals, and over 400 bird species too. What is the best time to visit Ranthambore National Park? During our cold Canadian winters India experiences pleasant warm temperatures, therefore, our winter is the perfect time to travel to India. Ranthambore National Park also recommends coming on safari between the warm dry months between October and April because this is the time where you will see lots of animals and may even spot a Bengal tiger. Combining an Indian wildlife safari with seeing some of Rajasthan's palaces and forts would make this journey to India an interesting and exciting trip of a lifetime.
Knowing how to strategically plan a trip like this is very important in ensuring that you experience the magic of India throughout your journey. Engaging with an award-winning travel company like Explore India is the only way to guarantee that your experience will be everything you want and more. The Explore India Travel Specialist is an expert at knowing how to take your wishes and needs and turning them into a journey that will offer some of the most memorable experiences in your life. Whether your Explore India Travel Specialist recommends one of the small group tours like Impressions of India, or if they plan a custom tour for you, once you pick up the phone and start the conversation you will begin to feel the stir in your heart that will lead to the magic that becomes a part of your life. Magical India is waiting for you, call us now and let the journey begin.
Here are a few examples of Explore India's award-winning tours that will educate, inspire, and warm your heart this winter season. Prices include international air from Winnipeg!
Featured tours from Winnipeg to India
Explore India is an award-winning tour and travel agency, and we pride ourselves on putting travel first. Every year, we are thrilled to be able to take Winnipeg locals on the Indian trip that they could only dream of. Come celebrate India with us through one of our tailor-made tours!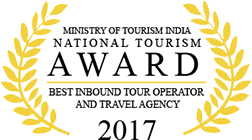 Need help finding a tour?
Contact a travel specialist