Custom Tailored Tours
Your Tour. Your Way.
Looking for something that doesn't seem to fit in any of our itineraries? Like bits and pieces of different tours and want it all in one package? We offer highly customized tailored tours for you. We can help you plan your trip all the way from start to end.
We would love to talk to you about your next journey to India! If you have any questions or concerns drop us a message by filling out the form or if you would rather speak to an Explore India Travel Specialist, call us at  1.800.515.3808.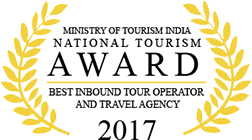 Need help finding a tour?
Contact a travel specialist