Tours to India from Ottawa
Ottawa & New Delhi – More In Common Than You May Know
If Environment Canada is a favourite on your phone, it's probably time you started thinking about planning a trip to escape the frigid temperatures in Ottawa this winter. Did you know that Ottawa and the capital city of India, New Delhi, have a lot in common? Both are capital cities of the governing bodies of each country's government and, like Ottawa, New Delhi is home to the parliament of India and is the place where Prime Minister Narendra Modi lives. Another interesting fact about Ottawa and New Delhi is that both cities share the honour of having UNESCO World Heritage Sites. The beautiful Rideau Canal in Ottawa was inscribed by UNESCO as a World Heritage Site in 2007, while New Delhi has several UNESCO designations such as; The Red Fort, Humayun's Tomb, and Qutub Minar. Wouldn't you love to go and see these amazing monuments in India? Imagine stepping off the plane and feeling the warmth of the glorious Indian sun welcome you as you begin your journey of a lifetime in incredible India.
What is the best time to travel to India? The timing is perfect because India enjoys beautiful, pleasant temperatures throughout our Canadian winters, therefore, anytime between October and March is the perfect time to travel to India. What are the top destinations in India? Whether it's seeing UNESCO World Heritage sites of India, or perhaps it's dancing, shopping, and dining your way through India, cities like New Delhi, Agra, Jaipur, Udaipur, and Varanasi, to name a few, offer highlights of India that will intrigue and amaze you. With direct flights offered from Ottawa to New Delhi, you can be enjoying the cities and sites in India in no time at all.
Now that you know where to go, you need to think about planning your trip. Understanding the dynamics of and knowing what to expect in a country like India is important in ensuring you have the best experiences possible. What is the best way to ensure your trip to India will be a magical experience? Calling award-winning Explore India Journeys Inc., would be a great place to start. Canadian owned and operated Explore India is the only travel company in Canada that specializes in India exclusively. Explore India Travel Specialists offer knowledgeable and thoughtful advice, but they are also India savvy and understand exactly what the Canadian explorer would like. From 5-star accommodations, to luxury coaches, gourmet menus, and English-speaking Indian guides, Explore India offers the best of everything. Whether it's the Hidden Gems of India Tour, Impressions of India, or The Journey Of The Senses Tour, the moment you call Explore India is the moment that the magic of India begins.  An Explore India Travel Specialist is waiting for your call.
Featured tours from Ottawa to India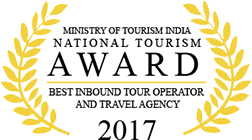 Need help finding a tour?
Contact a travel specialist