Tours to India from Calgary
Slip into the heat of adventure.
As you pull out your fuzzy mittens and warm boots take a moment and imagine packing your cool linens and sun hats instead. Wouldn't you rather be exploring incredible India rather than digging your car out of the snow? When is the best time to travel to North India? Anytime you have to cover your skin from freezing in the bitter Canadian winter is a good time to travel to India. Conveniently, India's prime season to travel is Canada's winter months. Break away from the Canadian winter and allow India to warm your heart and soothe your soul. Escape to a land of beauty, intrigue, and hospitality like no other. There are several tours at Explore India to choose from to give you the trip of a lifetime, there is only one India tour company who can create this magical experience for you and that's Canadian owned and operated Explore India.
Knowing what to see and do in India is paramount to being able to absorb the country at its finest. Choosing the right tour for your winter getaway is exciting and fun and the Explore India Travel Specialists can expertly guide you to determine which tour would be great for you. Now, as you sit feeling the chill in the air and the grey in the sky, imagine feeling the warmth of the glorious Indian sun on your back as you slowly glide up to the Amer Fort upon an elephant, smell the aromas of the spicy chai as it wafts its way over to awaken your senses, and open your eyes and see the sun slowly dance across the Taj Mahal as it reveals its magnificence to you at daybreak. There is this and so much more to see and do on a tour with Explore India. Connect with an Explore India Travel Specialist today, the sooner you call the sooner you will experience the magic that will change your life.
Featured tours from Calgary to India
Explore India is an award-winning tour and travel agency, and we pride ourselves on putting travel first. Every year, we are thrilled to be able to take Calgarian locals on the Indian trip that they could only dream of. Come celebrate India with us through one of our tailor-made tours!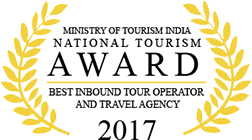 Need help finding a tour?
Contact a travel specialist